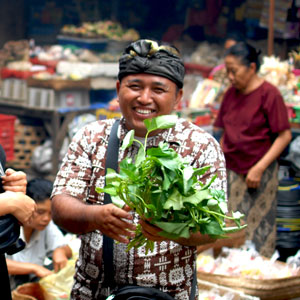 Ketut welcome you to Ketut's Bali Cooking Class.
One of the best things about travelling to new countries, is tasting the produce and the meals that form part of local culture. Bali is no exception, and the cuisine on offer is both traditional and tasty. Balinese food has it's own distinct flavours and methods in preparation, that have been handed down through the generations. At Ketut's Bali Cooking Class, you can learn how to cook some of these dishes, and take this knowledge home with you to share the delights of Balinese food with both family and friends.
Ketut has worked as a Chef in the local food industry for a number of years, having had experince in running kitchens in busy hotels, preparing banquets for local events and ceremonies, and also as a cooking instructor in the Ubud area. Born and raised in Bali, Ketut has grown up with a passion for cooking, and welcomes every opportunity to pass his knowledge onto locals, and international visitors alike.
If you would like to learn how to cook Authentic Balinese Food from a Real Balinese Chef, Ketut's Bali Cooking Class is well worth a visit. Ketut's warm and friendly personality is what makes Ketut's Bali Cooking Class, one of the best in Bali.